Our conferences will house a wide range of topics, in which vigorous research is going on. The topic includes Science and Technology, Medical, Pharma, Clinical, Engineering and so on. These conferences are tending to impart knowledge, techniques and innovations in the recent research. It gives a huge opportunity to exchange the pioneering thoughts to promote scientific discussions.
It is a warm welcome to the associations, societies, start-up's, universities to take part in our conferences.
Upon successful completion of our 1st Edition, Global Conference on Dentistry & Oral Health at Rome, Italy in 2019, Global Episteme welcomes you to participate in 2nd Edition of Dentistry & Oral Health during March 29-30, 2021 at Milan, Italy with a theme " Better teeth make a better healthy life". The main highlight of Dentistry and Oral Health is to present the latest research findings, discuss new methodology and treatment approaches, to build and maintain essential networks between researchers and practitioners.
Dentistry Conference 2021 will be platform to bring new ideas, research, methodologies and strategies encompass the field of dentistry and will include an impressive roster of eminent scientists, plenary speakers, invited speakers, keynote speakers and other participants around the globe to share their discoveries and to meet professionals in their field to foster new connections that enhance business and professional goals. It extends the opportunity to evaluate the emerging technologies and recent updates in oral health care across the globe.
AIM of the Conference
Sharing of scientific knowledge and experience in all areas applied to Dental Practice & Oral Health.
Discussing and debating scientific advances and current challenges
Strengthening and expanding the human network of all involved in this field in Europe and globally
Providing opportunities for Early Career experts for their professional development
Identify knowledge gaps that need to be filled
Importance and Scope
Dental Conference 2021 provides a great opportunity for dentists, academic and industry professionals to network and gain immense knowledge. Collaboration is the way to approach networking. When you are engaged with different individuals around the world, you position yourself as an expert. Widely acclaimed speakers, the most recent techniques, methodologies, and the most state-of-the-art updates in dentistry are indications of this meeting.
Target Audience
Dentists
Healthcare Experts
Doctors
Scientists
CEOs/COOs
Directors & Deans
Principal Dentist's
Dental Nurses
Dental Surgeons
Endodontists
Prosthodontists
Oral Pathologists
Orthodontists
Periodontics
Dental House Officers
Dental and Oral Health Researchers, Faculty and Students
Dental and Oral Health Associations, Societies and Universities
Dental or Oral Hygienists & Therapists
Dental Treatment Coordinators
Dental Partners or Owners
Dental Wholesalers, Dealers and Distributors, etc.
Attendees can;
Take advantage of opportunities to learn insights about Dentistry and Oral Health from a variety of oral and poster presentations.
Meet and network with dentistry ranging from students to deans, faculty, and researchers.
Take advantage of opportunities to collaborate with dental experts from around the world.
Attend prominent plenary sessions about relevant issues affecting dental care and the recent techniques adapted in Dental care.
Why to attend?
With individuals from everywhere throughout the world concentrated on getting new ideas concerning Dentistry & Oral Health, this is the best chance to accomplish the greatest get-together of people from the Dental and Oral Health groups. Famous speakers, quality presentations, recent frameworks, novel techniques for Dental problems, recent techniques will mark the uniqueness of this conference. It will also pave way for making a good relationship with the dental associates through the B2B meetings and develop better business opportunities.
Why Italy?
In Italy the dental research of a young population with an economy, transforming rapidly into a modern nation, needs a platform to plan and to translate those plans into reality. Today with a larger investments in science, research and developments which can intercept the growing necessity of modernization in social, health, security, scientific and economic sectors, need to have platforms like conferences, seminars , workshops and other related events which can throw light on different areas. The Association of Italy Dental laboratory and Dental Manufactures - with their products for the dental office and the - would like to continue to act as role model and pioneer: innovation, technology, quality and precision.
The Dentistry and Oral health conference helps you to get detail ideas about these events where you can spell out your knowledge and research outcomes.
We welcome your heartily presence towards our two days Conference of 2nd Edition of Dentistry and Oral health to the Economic city of Milan in the month of March.
Conference Highlights
Forensic Dentistry
Dental Nursing
Dental Pharmacology
Dental Materials Science
Pediatric Dentistry
Dental Marketing
Dental Sleep Medicine
Dental Anesthesiology
Oral Microbiology & Pathology
Nano Dentistry
Dental Hygiene
Oral Cancer
Market Report
Dental products and materials will rise 3.4 percent yearly to $12.7 billion in 2019. Cosmetic and repair/restorative products will be the fastest growing professional products. Among consumer products, value-added formulations will drive the dominant toothpaste segment. Polymers, ceramics and minerals will lead gains in dental materials.
This study analyzes the $10.7 billion US dental product and material industry. It presents historical demand data (2004, 2009 and 2014) and forecasts (2019 and 2024) by product (e.g., prosthetics, fillings, orthodontic appliances, cosmetic products, process materials, preventive products, toothpaste, mouthwash and dental rinse, denture products, whitening products, dental gum, dental floss) and raw material (e.g., metal, chemicals, ceramics and minerals, polymers).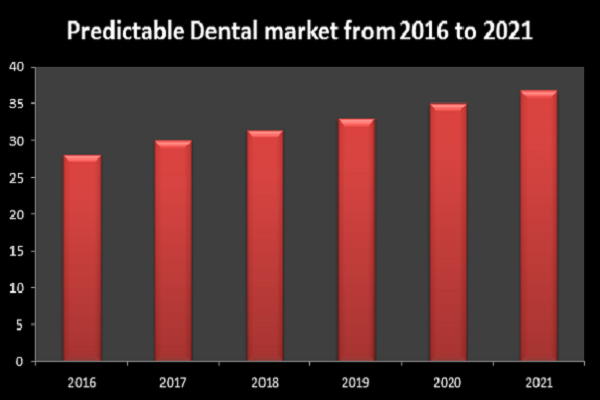 Figure 1: Predictable Dental Market Analysis from 2016-2021
The global dental market is projected to grow to a value of around 37 billion U.S. dollars by 2021. Current indicators show that the market will continue to grow moving forward. The implant treatment segment is expected to be a main driver of the total market.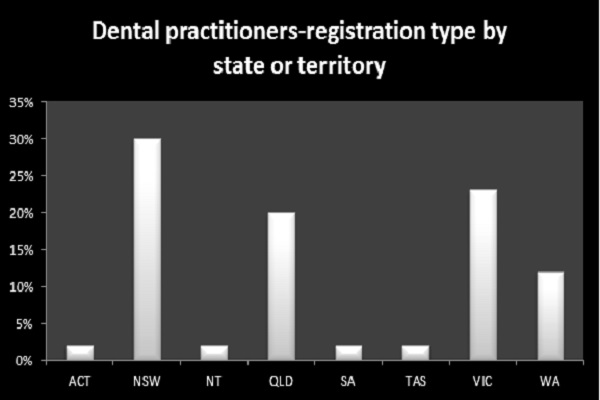 Figure 2: Dental Practitioners-Registration type by state or Territory
The estimation of the practicing personnel and the professionally active. Health professionals have to be recorded in the professional register to be licensed to practice and to acquire "training credits" while practicing. These credits are registered in the Continuing Training Education database. The estimate of practicing personnel and the professionally active was done by counting, among all registered professionals.
Top Dental associations around Globe
Academy of General Dentistry
National Dental Association
International Association for Dental Research
State Dental Associations
British Dental Association
Australian Association of Orofacial Orthopaedics
American Academy of Periodontology
Australasian academy of paediatric dentistry
Australian Central Association of Dentists
Australian Dental Association
Dentistry Laboratories
3M ESPE
A Plus Dental Laboratory
ADL Dental Laboratories
Asteto Dent Labs
Champlain Dental Laboratory, Inc.
Dental Services Group
Excel Dental Lab Co., Ltd.
Top Universities of Dental in Italy
University of Bari
University of Bologna
University of Brescia
University of Cagliari
University of Catani
University of Ferrara
University of Firenze
University of Genova
University of Insubria
University of L'Aquila
University of Messina
University of Milano
University of Modena
University of Padova
University of Palermo
University of Parma
University of Pavia
Global Dental Market – Company
Danaher Corporation
Biolase Inc.
Straumann
Dentsply Sirona
Patterson Companies Inc.
Henry Schein
Zimmer Holdings Inc.
Planmeca OY
Ivoclar Vivadent AG
References
https://healthengine.com.au/info/dental-associations
https://www.aae.org/specialty/about-aae/other-dental-associations/
https://www.topuniversities.com/university-rankings/university-subject-rankings/2021/dentistry
https://www.statista.com/statistics/731751/global-dental-market-size/
https://www.prnewswire.com/news-releases/global-dental-market-analysis--companies-dental-sales--strategy-report-2017---projections-to-2024-300533857.html
---
---
---
Keywords
Biomaterials, Safety and Biocompatibility | Ceramics, Metals, Polymers and Alloys | Physical, Chemical and Mechanical Properties | Adhesion Principles | Oral health care | Health service research | Quality assurance of dental care | Preventive dentistry | Dental materials | Associations for Dental research | Dental research Institutes | Ethics in Oral Health Research | Oral embryology | Oral medicine and pathology | Periodontitis | Oral health education and promotion | Glass ionomer restoratives | Invisalign | Ultraconservative Dentistry | Dental materials | Tooth morphology | Basic biology of sleep | Basic biology of sleep | Cone Beam Computed Tomography | Sleep Apnea and Bruxism | Role of dental and ENT surgeons | Forensic pathology | rodental identification | Craniofacial identification | Forensic orodental radiology | Etiology | Oral stereognosis | Myofunctional therapy | Dentition | Supplementary exercises | Biomaterials for dental implants | Prosthetic aspects of implant dentistry | Prosthetic aspects of implant dentistry | Implant treatment planning | Sinus augmentation technique | Impressions | Cementation | Classification and epidemiology | Black triangles treatment | Pulp and Periradicular Tissue | Cleaning and shaping of root canal system | Biofilm in endodontics | Obturation of root canal system | CAD/CAM Technology | Digital Dentistry | Dental Radiology | Radiographic Modalities for Implants | Tooth Regeneration | 3D Oral Cavity Model | Research Designs in Oral Epidemiology | Dentistry and Dental Hygiene | Dental Fluorosis | Ethics and Responsibilities in Dental Care | Fissure Sealants | Measuring Dental Caries | Tooth Erosion | Stratigies for Remineralization | Preventing Dental Diseases with Chlorhexidine | Ozone in the Prevention of Dental Diseases | Caries Detection and Diagnosis | Plaque Control | Global Dental Practice Management Software Market | Market Research | Dental Practice Financial Analysis | Planning and Managing Dental Services | Managing Patient Compliance | Practice Management Resources for Dentists | Hard and Soft Tissue Laser | Digital Imaging | Nanotechnology | VELscope Oral Assessment system | Radiation Therapy | Chemotherapy | Pretreatment Dental Evaluation | Surgical Pathology of Oral Cancer | Malignant Salivary Gland Tumors | Radiographic Imaging in Oral and Maxillofacial Surgery | Implant Surgery | Craniomaxillofacial Trauma | Suturing Materials and Techniques | Polymer Plastic Teeth | Laboratory Reline Material | Abrasive Cleansers | Maxillary and Mandibular Arch | Occulsion, Articulators and Facebows | Malocclusion | Orthodontic Treatment | Development of Orthodontic Surgery
Related Conferences
Dental conferences 2020 Europe | Dental conference topics | Dental research conference 2020 | Dental conferences 2020 UK | Dental practice 2020 | Dental conferences 2020 in USA | Dental conference 2020 japan | Dental conference 2020 Asia | dental conference chicago 2020 | Dental conference dubai 2020 | Dentist organizations | Icdo london 2021 | Japan dental conference 2020 | Nohc 2021 | Tri state oral health summit 2021 | Northwest occupational health conference | NNOHA 2020 | aaphd | aacdp | dental conference 2020 | dental conventions USA 2021 | dental conference hawaii 2020 | dental conference august 2021 in europe | dental conferences 2021 usa | dental conferences 2020 | international dental conferences 2020 | dental conferences 2020 europe | dental conferences 2020 usa | international dental conferences 2021 | dental conferences 2021 uk | dental conference in dubai 2021 | dental marketing seminar | dental oral care 2021 | spain dental conference 2021 | dental conference Ireland | dental meetings march 2021 | admconference | adm amsterdam 2021 | adm abstract | iadr 2021 | dental hygiene conferences 2020 | dental conferences 2021 florida | dental conference 2021 Milan | dental conferences 2021 new york | adm summit 2021 | adm 2021 | academy of dental materials 2020 | world dental conference 2020 | singapore dental conference 2021 | global dental conferences | eacmfs | ucsf dental cruise | ucsf day in dentistry | island dental colloquium 2021 | ucsf hawaii 2021 | san francisco dental ce | oral surgery mini residency | oral cancer conference 2021 | dental conference 2021 | aaoms | icoms 2020 | maxillofacial | face to face iaoms | iaoms next gen | eacmfs 2020 distance learning pediatric dentistry | dentists 2021 | pediatric dentistry ce courses 2021 | european academy of pediatric dentistry | iapd 2020 | isppd conference 2020 | iapd 2021 | iapd membership | iapd 2021 conference | dentistry open access journals | european association of pediatric dentistry | pediatric dental conference 2020 | pediatric oral health advocacy conference | dental conference Chicago | pediatric dentistry meetings 2021 | pediatric dentistry conference 2021 | aapd meeting 2020 | eapd 2020 | world pediatric conference 2020 | pediatric cme conferences 2021 | pediatric nursing conferences 2020 usa | pediatric nursing conferences 2021 | pediatric emergency medicine conferences 2020 | pediatric conference san diego 2021 | pediatric conference 2020 usa | pediatric nursing conference 2020 | 2020 pediatric conferences Pediatric Conferences | dental anesthesiologist | dental anesthesiology residency | future of dental anesthesiology | dental anesthesiology sdn | ucla dental anesthesiology | prosthodontics 2020 | world prosthodontist day | dental implant conference 2020 | latest innovations in prosthodontics | smile makeover contests 2021 | dental conference 2020 | oral cancer conference 2020 | american orthodontic conference 2021 | orthodontic conference 2021 | national orthodontic conference 2020 | orthopreneurs 2021 | ortho2 users meeting 2021 | pcso 2020 | orthodontic convention 2020 | orthopreneurs | gorp ortho 2021 | gny 2020 | gnydm exhibitor | new york academy of pediatric dentistry | dental conference in bali 2021 | orthodontic conference Hawaii | invisalign conference 2021 | 31st annual american dentistry congress | dental public health conference 2020 | 24th american world dentistry congress | paris dental conference 2021 | iadr 2021 brisbane | iadr 2021 china | iadr 2023 | iadr pan european regional congress 2020 |iadr annual meeting | iadr brisbane 2021 | nih dental clinic | nidcr extramural | nidcr council | nih grants for oral health | oral health research | tdha annual session 2020 | odha annual session 2021 | adha 2020 eid | dental hygienist appreciation week 2021 usa | dental convention 2020 denver | las vegas dental | convention 2021 | dental convention anaheim 2020 | dental therapist association