Global Episteme is overwhelmed to announce the commencement of Go Green be held during 09 - 10 August 2021, Webinar. The upcoming webinar will be organized around the theme "GoGreen: Shaping the Future of Green Planet".
Aim and Scope
The main objective of our webinar is to create platform for presentation of current results of scientific work in the field of human development and its relationship with the environment as a whole and secondly taking a broader view of the complex environment and development issues. The webinar aims to creates space for collaborative links between academics and professional practitioners and their workplaces, aiming at long-term sharing of knowledge and discussions of highly current issues.
Importance of GOING GREEN
A significant economic benefit of going green is that it helps lower costs and save money. Use of renewable energy helps reduce energy consumption which in turn helps save money used on electricity bills. Going green by reducing or eliminating air pollutants makes the air we breathe in clean which means good health
Recycling is another way to go green. Recyclable products last longer than other products which can save on money used for repair and maintenance. When we recycle products as well as create Do-it-Yourself (DIY) items, we not only reduce wastage, but we also become more creative which helps create new products consistently and thus reduce the cost of buying new products.
Why to Attend?
Our webinar is making space To network, and meet the keynote speakers for advice, to create connections with researchers who share similar interests also to expand your knowledge in the field of environmental\global science and find solutions to existing problems, present your ideas, findings and work with others discuss ideas with other researchers learn about other projects being undertaken in your field. Receiving exposure and to develop an interest in research. Meet academic researchers from all around the world.
Target Audience
Directors
Managers & Business Delegates, Founders
Universities Faculty
Industries, Investigators
Environmentalists
Post-Doctoral Fellows.
Clinical Fellows.
Research Scholars, Students.
Technology Experts.
Environmental Research Companies.
Vendors will have the opportunity to introduce the latest advancements in Environmental science to a diverse audience by becoming a conference sponsor via exhibits or workshops.
Benefits
Accepted abstracts will be published in Conference proceedings and Google Scholar
Global networking: In transferring and exchanging Ideas
A Unique Opportunity for Advertisers and Sponsors at this International event
Market Analysis
With one of the highest, most vibrant and transformative sectors, Renewable energy has highly complimented in the global economy. With the upcoming innovations, technological improvements Energy and improvement in the design of framework renewable energy is growing worldwide. In 2015, the investment done in in this field was around $329 billion and increasing further. With the contribution of wind energy and solar energy there has been massive increase in the renewable capacity growth that has reached to 153 Gig watts (GW). It has overtaken the power capacity of coal. It has been estimated that the renewable energy will grow 42% in the global market by end of 2021.
Electricity generation is the greatest application of renewable energy. With the crossing population of 100 billion it has become necessary to deal with the threat of climate change through the deployment of renewable resources. With the higher availability and cheap price renewable energy is in great demand in the market. Renewable energy sources are most given importance when compared to fossil fuels like coal, petroleum.
The global energy market grasped $432.7 billion and $476.3 billion in 2013 and 2014 respectively. This market is expected to $776.6 billion in 2019 with a compound annual growth of 10.3% from 2014 to 2019. Europe, Asia Pacific, North America, and rest of the world are divided regionally by global renewable energy market. Europe and Asia Pacific are leading largest market for renewable energy with advancement in technology and new forms of energy across the region.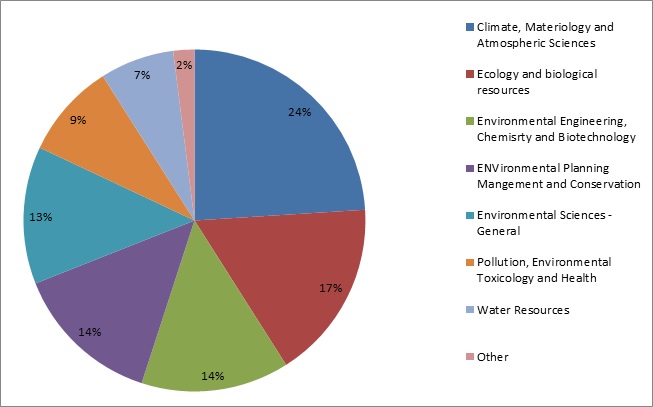 Keywords
Supplying Resources | Assimilating Waste | Sustenance of Life | Aesthetic Value | Biotic components | Atmospheric chemistry | Environmental monitoring | Pollution remediation | Marine chemistry |Analytical Toxicology | Energy Production and Conservation | Nutrient Management | Residuals and Bio solids| Water Reclamation and Reuse| Storm water, Green Infrastructure | Carbon sequestration | Flue gas treatment | Electrostatic precipitator | Ocean fertilization | Ethanol | Biodiesel | Biobutanol | Multistage flash distillation | Vapor compression distillation | Solar distillation | Carbon Emission Sources and Control | Carbon Discharge Reduction | Deforestation | Organic Material | Inorganic Material | Pre-chlorination | Sedimentation | Polyelectrolytes | land degradation | xenobiotic | Chemical oxidation | Soil stabilization | Bioremediation | emphysema | chronic obstructive pulmonary disease | Toxicokinetics | Toxicodynamics | Risk analysis | Meteorology | Hydrology | Geophysics | Atmospheric physics |Physical oceanography | Advances in biological processes | Storm-water management | Emission sources | Habitat restoration | Energy Conservation | Fuel Cell Technology | Plasma Technology | Renewable Energy Sources | Biogas and biomass | Green Chemistry | Biofuels and bio refineries | Thermal power plants | Plastic components | Flame retardants | Surfactants | Chemical Recycling | Green accounting | Green stimulus | Policy Design and Evaluation
Related Conferences
Environmental conferences 2021 | Geology conferences | Recycling conferences | Hydrology conferences | Climate change conferences | Environmental chemistry conferences | Environmental Health conferences | Energy conversation conferences | 5th World Congress and Expo on Green Energy June 14-16, 2018 London, UK | Earth science conferences | Geology conferences | Hydrology conferences | Environmental Health conferences | 8th World Congress and Expo on Recycling June 25-26, 2018 Berlin, Germany | Geoscience conferences | Soil Sciences | Renewable Energy conferences | Climate change conferences | Environmental chemistry conferences | 4th International Conference on Pollution Control & Sustainable Environment July 26-28, 2018 Rome, Italy | Atmospheric science conferences | Environmental Health conferences | Sewage treatment conferences | Recycling conferences | Remediation conferences | Renewable Energy conferences | Energy conversation conferences | Environmental Engineering conferences | Environmental toxicology conferences | Ecology conferences | Atmospheric science conferences | Sewage treatment conferences | 5th World Conference on Climate Change October 4-6, 2018 London, UK | Environmental Pollution conferences | Annual Congress on Soil Sciences Dec 4-5, 2017 Madrid, Spain | 12th Edition of International Conference on Oceanography & Marine Biology, June 28-29, 2018, Berlin, Germany | Environmental science | Environmental management | Environmental toxicology conferences | Environmental Engineering conferences | Earth science conferences | Ecology conferences | Geoscience conferences | Environmental Pollution conferences | Atmospheric science conferences | Remediation conferences | Energy conversation conferences |