About us:
The webinar on Infectious Diseases, which will be scheduled on 26-27 July 2021, will assemble the researchers in the field, together with scientists, microbiologists, pathologists, faculty, postdoctoral fellows and graduate students, to discuss new, cutting-edge developments in the study of all aspects of microbial research.
Aim & Scope
The goal of this Webinar is to bring together an amalgamation of basic and applied scientists, virologists and researchers working on functional cures and eradication of emerging microbial infections & diseases in an effort to not only better understand but also its treatment strategies but also the emerging technologies and approaches.
Among the many emerging and neglected infectious diseases that threaten large portions of the world's populations, those transmitted by microorganisms like virus, bacteria, fungi etc. are among the most important in terms of mortality and morbidity.
This Webinar will bring together many of the experts to provide comprehensive, state-of-the-art information on virology & infectious diseases and their transmission, epidemiology and disease control, host defense and human immune responses to infection, diagnosis, pathogenesis and treatment, and vaccines and therapeutics.
Scope
Microorganisms causing infectious diseases have become increasingly important to human society. The study has emerged one of the most important branches of life sciences. As microbes practically affect all activities of our life like, food, clothing, shelter, health hygiene etc., microbiology has made vast progressive strides in all these fields in little less than a century to improve the quality of our life. Infectious diseases have almost been conquered by new drugs, quality of agricultural crops improved by using techniques of genetic engineering, new varieties of wines, liquors have been produced- all these are possible only because of microbiology. All these will make us wonder how our life would have been without the knowledge of microbiology. Infectious Diseases are infections and diseases caused by organisms such as bacteria, viruses, fungi or parasites. Vaccine development, treatment, diagnosis and cure is important in terms of global health.
Webinar Objectives:
To ease opportunities for networking, collaboration and exchange of ideas with internationally renowned leaders in Infectious Diseases and Clinical Microbiology.
To identify research and practice based innovations in optimizing Infectious Diseases research and development.
To debate gaps and priorities for sustainable development in optimizing Infectious Diseases and Clinical Microbiology research and development.
To discuss and debate the challenges and opportunities in the new era of optimizing Infectious Diseases and Clinical Microbiology research and development reforms.
To identify opportunities for evidence-based practice in optimizing Infectious Diseases and Clinical Microbiology research and development.
Sessions
Viral Infections & Diseases
COVID19 Outbreak, Control & Treatment
Influenza and Control
Ebola and Zika viruses
HIV & Associated Infections
Bacterial Infections & Disease
Tuberculosis & Respiratory Illness
Fungal infection & disease
Microbial susceptibility & resistance
Antimicrobial agents and Resistance
Microbial Pathogenesis & Biofilm
Microbial Genomics
Immunology & Host-Microbe Biology
Mechanism of Resistance
Epidemiology of infections
Diagnostic Microbiology: Applications
Clinical Microbiology
Disinfection and Sterilization
Nosocomial Infections & Hospital Acquired Diseases
Blood stream infections
Urinary Tract Infections
Neuro Infectious Diseases
Novel Vaccines and Drugs
Vector Borne and Zoonotic Infectious Diseases
Prevention of Infectious Diseases
Infection Control and Public awareness
Vaccines and Therapeutics
Antimicrobial Stewardship
Healthcare-associated & surgical infections
Public Health & Epidemiology
Clinical Advances from the Microbiology Laboratory
Emerging Clinical Issues in Infectious Diseases
Tropical Medicine & case reports
Who should attend?
Microbiologists
Bacteriologists
Virologists
Parasitologists
Mycologists
Pathologists
Pharmacists
Epidemiologists
Health Care Professionals
Infectious Diseases Specialists
Infection Prevention and Infection Control Specialists
Targeted Audience
Directors, Board Members, Presidents, Vice Presidents, Deans and Head of the Departments
Infectious Diseases Researchers, Scientists, Faculties, Students
Infectious Diseases Associations and Societies
Medical Colleges
Pharmaceutical Companies and Industries
Medical Devices Manufacturing Companies
Drug Manufacturing Companies and Industries
Laboratory Technicians and Diagnostic Companies
Business Entrepreneurs and Industrialists
Training Institutes
Software Developing Companies
Data Management Companies
Market Analysis
The global market for infectious disease treatments totaled $64.8 billion in 2017. The market should total $99 billion by 2022, growing at a compound annual growth rate (CAGR) of 8.9% from 2017 to 2022.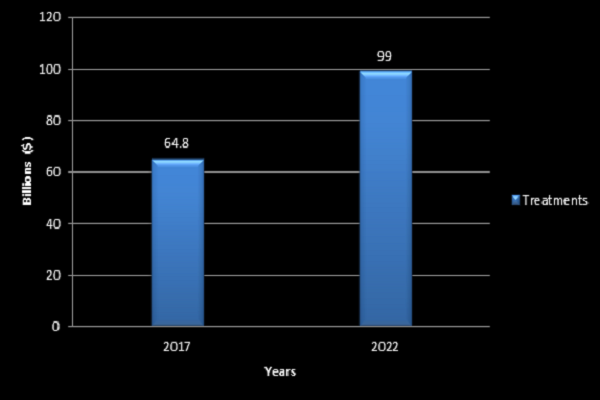 The worldwide infectious disease diagnostics market is expected to reach USD 25.43 billion by 2027 from USD 15.57 billion every 2018, at a CAGR of 5.6%.The expanding worldwide predominance of infectious diseases, the shift is focused from incorporated labs to decentralized purpose of-care testing, and development in subsidizing for inquiring about infectious disease diagnostics are some of the components driving the development of this market.
In Italy
The Europe in vitro diagnostics market (IVD) was valued at $13,825 million in 2019, and is projected to reach $18,647 million at a CAGR of 4.8% from 2020 to 2027.
Reference Links
https://www.prnewswire.com/news-releases/the-global-market-for-infectious-disease-treatments-totaled-648-billion-in-2017-300610161.html
Related Keywords
Infectious Diseases | Influenza | Cryptosporidiosis | Vector-Borne Diseases | Legionnaires' Disease | Human Metapneumovirus | Valley Fever | Antibiotic-Resistant Diseases | Parasitology & Infectious Diseases | Medical Parasitology | Veterinary Parasitology | Structural Parasitology |Quantitative Parasitology | Molecular Parasitology | Bacterial Infectious Diseases | Common Causes and Symptoms | Hepatitis Case Reports | Mycobacterial Diseases Case Reports | Bacterial Meningitis | Otitis Media| Pneumonia |Tuberculosis | Upper Respiratory Tract Infection | Gastritis and Urinary Tract Infections | Food Poisoning | Eye Infections | Sinusitis | Skin Infections | Sexually Transmitted Diseases | Zoonotic Disease | Coronavirus Disease (COVID-19) | Diagnosis | Prevention | Management | Viral Infectious Diseases | Respiratory Viral Diseases | Gastrointestinal Viral Diseases | Exanthematous Viral Disease | Hepatic Viral Diseases | Cutaneous Viral Diseases | Hemorrhagic Viral Diseases | Neurologic Viral Diseases | Bottom Line Infections | Fungal Infectious Diseases | Athlete's Foot | Yeast Infection |Jock Itch | Ringworm | Invasive Allergics | Chronic Lung or Deep Tissue Infections | Mucosal Infectoni | Skin, Nails and Hair | Neuro Infectious Diseases | Meningitis and Encephalitis | Progressive Multifocal Leukoencephalopathy | HIV-Associated Neurodegeneration | Neurosarcoidosis | HTLV 1 Myelopathy Hereditary Spastic Paraparesis | Transverse Myelitis | Neurovirology | Bacteria Induced Neuropathies | Neurocystercercosis | Neuroepidemiology | Neuro-Infections Induced Autoimmune Disorders | Neuroinfectious Agents | Neurocysticercosis | Brain Infection | Neurosyphilis | Blood infectious Diseases | Blood disorders | Contamination of Blood Products | Infections affecting White Blood Cells | Nosocomial Infections & Control | Hospital Infection | Device-Related Infections | Surgical Site Infections | Opportunistic Infections | Occupational Health Hazards and Safety | Clinical Studies and Case Reports | Health Care Professionals and Infections Specialists Meeting | Ebola and Zika Viral Infections | Origin of Ebola and Zika Virus Disease | Viral Structure and Genetics | Clinical Manifestations and Laboratory Diagnosis | Economic Impact of Zika Virus | Veterinary diseases | Zoonosis | Foot Rot | Anthrax | Ephemeral Fever | Rabies | Brucellosis | Foot And Mouth Disease | Rift Valley Fever | Glanders | Henipa Virus | Swine Vesicular Disease | Contagious Bovine Pleuropneumonias | Scrapies | Bovine Viral Diarrhoea | Vaccines and Vaccination | Vaccine Research & Development | Human Vaccines - Infectious Diseases & Non Infectious Diseases | Vaccines Types | Cancer and Immunotherapy Vaccines | HIV Vaccines | Veterinary Vaccines | Vaccines for Respiratory Diseases | Allergy and Asthma Vaccines | Vaccine Induced Immunity | Vaccine Safety and Efficacy | Vaccine Adjuvants | Pediatric Vaccines | Plant Based Vaccines | Causes and Symptoms of Infectious Diseases | Bacterial Infection | Viral Infection | Parasitic Infection | Fungal Infection | Fever | Diarrhoea | Fatigue | Muscle Aches | Coughing | Running Nose | Allergies | Pharmacology and Infectious Diseases | Inflammatory Drug Development | NSAIDS Drug Development | Anti-inflammatory Drugs and NSAIDS | Epidemiology | Scientific | Systematic | Data Based | Natural Disaster | Antimicrobials/Antibiotics/Antibacterial | Spectrum of Activity | Effect on Pathogen | Mode of Action | Problems in Infectious Disease Practice | Diagnostic Errors | Treatment Failure | Critical Care and its Applications | Ebola and Zika Viral Infections | Origin of Ebola and Zika Virus Disease | Viral Structure and Genetics | Clinical Manifestations and Laboratory Diagnosis | Economic Impact of Zika Virus | Plants Diseases and Fungal Infection Control | Fungal Diseases | Bacterial Diseases | Mycoplasma Diseases | Clinical and Case Reports | Case Report on Infectious Disease | Case Report on Pediatric Infectious Disease | Case Report on Cardiology Infectious Disease | Pediatric Infectious Diseases/Childhood | Pre-Transplant Evaluation | Transplant Infections | Severe and Complicated Infections | Tetanus and Polio | Streptococcal Pharyngitis | Scarlet Fever | Campylobacteriosis | Osteomyelitis | Chickenpox and Shigellosis | Recurrent and Resistant Infections | Bone and Joint Infections | Heart Infections | GI and Urinary Tract Infections | Fevers of Unknown Origins | STD And HIV Infection | Chlamydia | Trichomoniasis | Gonorrhea | HPV | Syphilis | Hepatitis B Infection | Hepatitis C Infection | Genital Herpes
Related Conferences
Infectious Diseases Conference | Idsa Conference 2021 | Infectious Diseases 2021 | Notification Of Infectious Diseases 2021 | Eccmid 2021 | Worldwide Conference On Infectious Diseases | International Congress On Infectious Diseases | Infectious Diseases Conferences 2021 | Infectious Disease Conferences | Infectious Disease Conference 2021 | Infectious Disease Society Of America Conference | Infectious Disease Conference 2021 United States | World Congress On Infectious Diseases | Infectious Disease Week 2021 | Id Week Infectious Diseases Society Of America | Infectious Diseases Conferences | Kansas Infectious Disease Symposium | Idsa Conference 2021 | International Conference On Microbiology Infectious Diseases 2021 | Infectious Diseases Conferences 2021 | Infectious Diseases Conference 2021 | International Conference On Microbiology Infectious Diseases | Virology Conferences 2021 | Virology Conference 2021 | Virology Conferences | Virology Related Conferences | Viruses 2021 | Virology | Virology Conference | Virology Workshop | Microbiology Conference 2021 | International Microbiology Conference 2021 | Medical Microbiology Conference | Microbiology Workshop | Asm Conference 2021 | Upcoming Conferences In Microbiology | Bacteriology Conference | Microbiology Conferences | Epidemiology Conferences 2021 Usa | Epidemiology Conferences | 4th International Conference On Epidemiology And Public Health | World Congress Of Epidemiology | Society Of Epidemiology | World Conference On Epidemiology-Infectious Diseases And Public Health | International Conference Epidemiology | World Congress On Infectious Diseases 2021 | Global Conference On Infectious Diseases | Worldwide Conference On Infectious Diseases | Infectious Disease Conference | Infectious Diseases Conferences