After the completion of previous successful on-site conferences and Webinars, the Global Episteme Inc. glad to announce its new meeting on Women's Health & Obstetrics with the theme of "Advance research on Women Health" and held on June 8 – 9, 2022 at Singapore.
Aim and scope
Women's Health 2022 is a global meeting, which enables researches to learn advances in women's health and healthy aging, obesity and weight management, effect of drugs on pregnancy, abortion and mental health, menstrual cycle & menopause as well as a breadth of recent updates. And bring together experts from various fields around the world to discuss and exchange the ideas on healthcare practice, education, research and management and provides a best platform for women's health professionals, researchers and students to spread knowledge on recent and current advancements in healthcare & obstetrics.
Women's Health 2022 encouraging the people to present their research under the Plenary talks, Keynote session, Speaker Session, Poster session, workshops, special sessions on COVID-19. The Global Episteme Inc. requesting all the researches to use this platform to connect the people in the field of Women's Health & Obstetrics and learn the content related to Women and Pain Medicines, Child Birth, Metastatic Breast Cancer, Depression & Anxiety, Complications during Pregnancy, Yoga, Exercise and Wellness, Healthy Aging, Abortion and Mental Health, PCOD and PCOS, Health Disorders and Obesity, Infertility, Immunization, etc.

Attending this meeting gives you the opportunity to publish your abstract or complete manuscript in conference proceedings
Importance of Women's Health and why Women's Health & Obstetrics
Women represent the cornerstone of a family's overall health, ensuring they have access to quality care also can lead to improved health for children and families. The health of families and communities are no doubt, tied to the health of women. The illness or death of a woman has serious and far-reaching consequences for the health of her children, family and the community too. Today, women's health is taking on a higher position in society as people have come to realize that while women have many of the same diseases as men, their symptoms and treatments may not always be identical.
At each stage of a woman's life, there are important preventative health care steps to follow in order to provide early detection of medical problems. Many women may neglect health care exams for a number of reasons, however, in the end, it comes down to whether or not you wish to make yourself a priority. After putting so much energy into caring for the lives of others, it is time women deserve that same level of care toward themselves.
Specific health issues to Women
Breast Cancer
Ovarian and Cervical Cancer
Gynecological Health
Pregnancy Issues
Auto-immune Diseases
Depression and Anxiety
Heart Disease
Submit your abstract under the below sessions and also sub - topics of the sessions.
Metastatic Breast Cancer | Cosmetic Dermatology | Reproductive Life Planning & Preconception Care | Child Birth | Complications during Pregnancy | Emergency Maternal Care | Immunization | Autoimmune Diseases | Sexually Transmitted Infections | Midwifery | Women and Diabetes | Abortion | Osteoporosis and Bone Health | Reproductive Endocrinology | Effect of Drugs on Pregnancy | Obstetrical Management & Care | Surrogacy and Psychological Concerns | Health Disorders and Obesity | Endometriosis & Treatment | GYN Cancers: Prevention & Early Detection | Urogynecology – Pelvic Health Diseases | PCOD and PCOS | OBGYN Health | Infertility | Menopause and perimenopause | Gynecologic Issues in Older Women | Geriatrics & Aging | Current Issues in Women's Mental Health | An update on Depression & Anxiety | Yoga, Exercise and Wellness | Healthy Eating/ Nutrition | Telehealth Essentials for Women | Impact of COVID-19 on Women Health
Target Audience
Gynecologic Oncologists, Clinical Toxicologists, Hospital Administrators, Nursing and Healthcare Faculty, Radiographers and Sonographer, Healthcare Industries, Women's Healthcare Students, Gynecologists, Midwifes, Pharmaceutical Industries, Scientists and Professors, Specialists in IVF, Obstetrics Pediatrics, Obstetricians, Endocrinologists, Pharmacotherapists, Pharmacists, Pathologists, Obstetricians, Women's Healthcare Researchers, Healthcare Faculty, Young researchers, Training Institutes, Training Institutes, Medical Devices Manufacturing Companies, Breast Cancer Surgeons, Nursing Lecturers, Societies of Gynecology and women's Healthcare, Family Medicine Physicians and General practitioners,
*We have successfully completed our previous conferences on the topics of Nursing, Nutrition & Food Science, Dentistry & Oral Health, Pediatrics & Neonatology Summit, Neuroscience & Mental Disorders, Obesity & Diet Management, Cancer Research, Coronavirus and Research, Material Science Congress, Infectious Diseases & Research, Gogreen Meet, Plant Science: Research & Technology
Nursing & Healthcare, June 24-25, 2019, Rome, Italy
Nutrition & Food Science, June 24-25, 2019, Rome, Italy
Dentistry & Oral Health, July 01-02, 2019. Rome, Italy
Neuroscience & Mental Disorders, July 01-02, 2019, Rome, Italy
Nursing & Healthcare Summit, October 21-22, 2019, Tokyo, Japan
Pediatrics & Neonatology Summit, October 21-22, 2019, Tokyo, Japan
Neuroscience & Mental Disorders, March 15-16, 2021. Virtual Conference
Nursing & Healthcare, March 15-16, 2021, Virtual Conference
Nutrition & Food Science, March 22-23, 2021, Virtual Conference
Obesity & Diet Management, March 22-23, 2021, Virtual Conference
Cancer Research, March 29-30, 2021, Virtual Conference
Coronavirus And Research, March 29-30, 2021. Virtual Conference
Material Science Congress, March 31-01, 2021, Virtual Conference
Webinar On Nursing & Healthcare, July 12-13, 2021, Virtual Conference
Webinar On Nutrition & Food Science, July 12-13, 2021, Virtual Conference
Women's Health & Obstetrics, November 01-02, 2021, Virtual Conference
Nutrition & Food Science, November 08-09, 2021
Obesity & Diabetes, November 08-09, 2021
Nursing & Healthcare, November 01-02, 2021
Plant Science: Research & Tech. August 09-10, 2021
Environmental Science & Recycling, November 15-16, 2021
Plant Science: Research & Tech, November 15-16, 2021
Benefits
Accepted abstracts will be published in Conference proceedings and Google Scholar
Global networking: In transferring and exchanging Ideas
Best chance to share your ideas with eminent people the field of your research.
Develop and improve your research skills.
Young Scientists will get appropriate and timely information by this on-site event.
Extensive reach to international audience
Develop connections and collaborations
Certificate of participation/presentation
Market analysis
Obstetrics Devices Market 2018 - 2023
Obstetrics Devices Market Trend 2021-2023 Global Industry Market research report provides key analysis on the market status of the Obstetrics Devices manufacturers with market size, growth, share, trends as well as industry cost structure. Obstetrics Devices Market Report will add the analysis of the impact of COVID-19 on this industry.
Global "Obstetrics Devices Market" (2021-2023) report identifies Sales of Market by regional analysis by product type and product applications from past year. Obstetrics Devices Market research report gives analysis on products sales, price, margin, growth (regionally volume). Market research report gives analysis on Historical and Current scenario on Obstetrics Devices Market. Research provides potential market opportunities and strong industry focus on Obstetrics Devices market forecast till 2023. Research report provides CAGR value in percent during 2021 to 2023.
COVID-19 Impact on Market:
The COVID-19 outbreak has affected economies and industries in various countries due to lockdowns, travel bans, and business shutdowns. The global food and beverage industry is one of the major industries facing serious disruptions such as supply chain breaks, technology events cancellations, and office shutdowns as a result of this outbreak.
The overall market break down due to COVID-19 is also affecting the growth of the bacon market due to shutting down of factories, obstacle in supply chain, and downturn in world economy.
The global obstetrics devices market is expected to register a growth rate of nearly 7.4% during the forecast period, 2018-2023. Obstetrics devices are associated with delivery / labor devices and differ according to the type of delivery. The rise in assisted deliveries is expected to drive the market for obstetrics devices over the forecast period.
Global Gynecology Drugs Market (2021 to 2025)
The global gynecology drugs market is expected to grow from $22.22 billion in 2020 to $24.68 billion in 2021 at a compound annual growth rate (CAGR) of 11.07%. The growth is mainly due to the increase in gynecological disorders among women and rising cases of gynecological cancer. The market is expected to reach $31.21 billion in 2025 at a CAGR of 6.05%.
The gynecology drugs market consists of sales of gynecology drugs services by entities (organizations, sole traders, and partnerships) that manufacture gynecology drugs which are used to treat gynecological diseases which include conditions affecting the uterus, ovaries, and their appendages.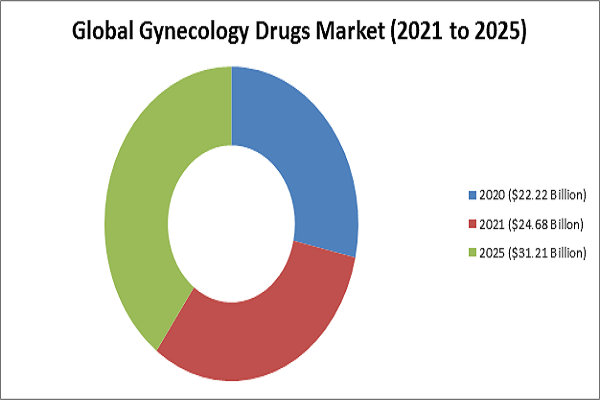 In the United States, women generally live long and healthy lives when compared to other less developed countries, but they still face many health issues involving cancer, mental health, and fertility. In 2017, heart disease and cancer were the leading causes of death among women in the U.S., accounting for a combined 43 percent of all female deaths.
General health
Percentage of women in the U.S. who reported having a health condition that required ongoing monitoring, care or medication as of 2020, by age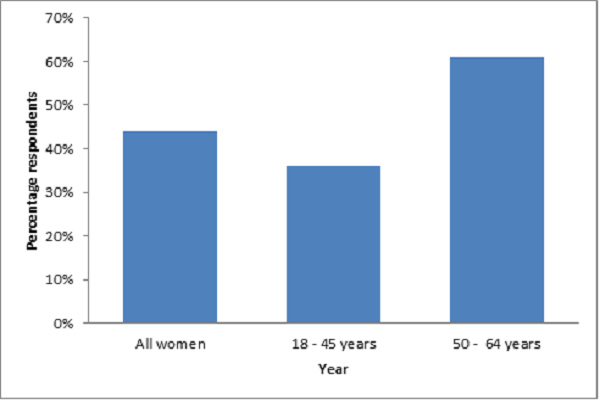 Depression is predicted to be the second leading cause of global disability burden by 2020. It is twice as common in women.
Gender-specific risk could be a likely cause. This includes: gender-based violence, socio-economic disadvantage, income inequality, low social status and rank, and responsibility for the care of others.
Conditions That Affect Men and Women Differently
*The telltale heart attack sign of feeling like there's an elephant sitting on your chest isn't as common in women as it is in men. Many women feel upper back pressure, jaw pain, and are short of breath. Or they may feel nauseated and dizzy instead. Though heart disease is the leading cause of death for both genders in the U.S., women are more likely to die after they have a heart attack.
*Men are more likely than women to have serious cases of COVID-19, though it's not clear why. It could be because men are more likely to have health problems, like high blood pressure, diabetes, and heart disease that raise the odds for severe COVID-19 symptoms. Another possible reason: Women tend to have stronger immune systems than men.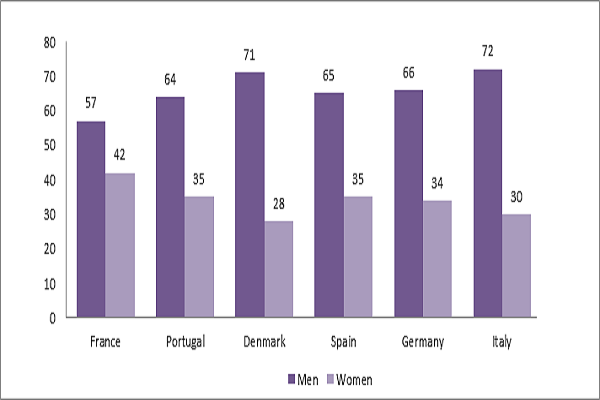 Violence against women and girls remains a global issue
During COVID-19 lockdowns, many women and girls have been isolated in unsafe environments where they are at heightened risk of experiencing intimate partner violence. Around one third of women worldwide have experienced physical and/or sexual violence by an intimate partner; and 18% have experienced such violence in the past 12 months. In the most extreme cases, violence against women is lethal: globally, an estimated 137 women are killed by their intimate partner or a family member every day.
While female genital mutilation is becoming less common in some countries, at least 200 million girls and women alive today have been subjected to this specific form of violence across Africa and the Middle East where the practice is most prevalent.
In a sign that attitudes are changing, women's acceptance of being beaten by their partners decreased in almost 75% of countries with data over the past seven years. But laws to address domestic violence are not yet universally available, with only 153 countries having such laws. Gaps are largest in Northern Africa, Western Asia and sub-Saharan Africa, where 43% and 35% of countries respectively have not passed such laws.
https://www.statista.com/statistics/871802/women-with-ongoing-health-issues-us-age/
https://www.un.org/en/desa/world%E2%80%99s-women-2020
https://www.webmd.com/a-to-z-guides/ss/slideshow-conditions-affect-men-women-differently
https://www.weforum.org/agenda/2020/03/are-women-less-happy-than-men/
https://www.businesswire.com/news/home/20211111005852/en/
https://www.ktvn.com/story/44680291/obstetrics-devices-market-2021-global-industry-share-size-global-industry-analysis-key-growth-drivers-trends-segments-emerging-technologies
Our topics include
Bleeding disorders | Fibroids (uterine) | Bacterial vaginosis | Autoimmune diseases | Hashimoto's disease| Sickle cell disease| Heart-healthy eating | Ovulation calculator | Urinary incontinence | Binge eating disorder | Birth control methods | Healthy living by age | Pelvic organ prolapse | Period (menstruation) | Postpartum depression | Asthma | Herpes | Stroke | Fitness | Diabetes | Douching | Insomnia | Syphilis | Chlamydia | Gonorrhea | Hepatitis | Pregnancy | Body image | Depression | Folic acid | Infertility | Oral health | Weight loss | Women Cancer | Fibromyalgia | HIV and AIDS | Hysterectomy | Osteoporosis | Breast cancer | Breastfeeding | Endometriosis | Genital warts | Heart disease | Ovarian cysts | Prenatal care | Genital herpes | Getting active | Healthy eating | Healthy weight | Ovarian cancer | Sexual assault | Uterine cancer | Bladder control | Bulimia nervosa | Cervical cancer | Date rape drugs | Graves' disease | Pregnancy tests | Thyroid disease | Viral hepatitis | Anorexia nervosa | Caregiver stress | Eating disorders | Uterine fibroids | Yeast infections | Anxiety disorders | Pap and HPV tests | Sleep and your health | Carpal tunnel syndrome | Iron-deficiency anemia | Stress and your health | Violence against women | Domestic violence/abuse | Pregnancy and medicines | Vaginal yeast infections | Human papillomavirus | Premenstrual syndrome | Physical activity | Screening tests and vaccines | Urinary tract infection | Irritable bowel syndrome | Spider veins and varicose veins | Varicose veins and spider veins | Inflammatory bowel disease | Polycystic ovary syndrome | Pelvic inflammatory disease | Overweight, obesity, and weight loss | Depression during and after pregnancy | Breast reconstruction after mastectomy | Female genital mutilation or cutting | Bladder pain syndrome | Interstitial cystitis | Emergency birth control/emergency contraception | Ovarian syndrome
Related conferences
Women's health conference 2022 | women's health cme conferences 2022 | mayo clinic women's health conference 2022 | virtual obgyn conferences 2022 | women's health nurse practitioner conferences 2022 | virtual women's health conference | women's health conference hawaii 2022 | obgyn conferences 2022 | virtual obgyn conferences 2022 | ob-gyn cme conferences 2022 | high risk obstetrics conference 2022 | ob conferences 2022 | obgyn conferences 2022 | public health conference 2022 | global health conference 2022 | global public health conference 2022 | out for health conference 2022 | european public health conference 2022 | nutrition and health conference 2022 | diabetes conference 2022 | diabetes uk conference 2022 | diabetes uk conference 2022 dates | diabetes professional conference 2022 | diabetes professional care 2022 | diabetes uk conference 2022 login | pregnancy conference 2022 singapore | smfm abstract deadline 2022 | ajog smfm abstracts 2022 | smfm 2022 virtual meeting | smfm abstract deadline 2022 | smfm 2022 annual meeting | obesity conference 2022 | fat disorders conference 2022 | childhood obesity conference 2022 | bariatric conference 2022 | obesity cme 2022 | obesity summit 2022 | stages of a yeast infection healing | yeast infection pictures woman | eccmid 2022 | yeast infection healing signs | yeast infection cream | white discharge after yeast infection treatment | maternal mental health conference 2022 | psychiatry conferences 2021 | women's mental health conference 2022 | women's mental health organizations | women's mental health associate